Orlison Brewing
1017 W. 1st Ave., Spokane, WA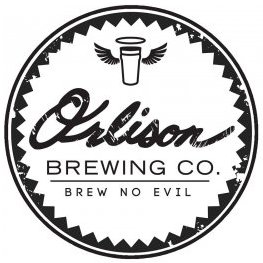 Orlison launched as a lager-only, distribution-focused brewery (originally called Golden Hills) in Airway Heights in 2009, but has since broadened its appeal by shifting toward ales and opening a downtown Spokane taproom. The regular lineup, much of it available in bottles and cans, includes Boulder Garden Brown, a gold medal winner at the 2017 Great American Beer Festival. The cozy taproom also offers rotating small-batch specialties.
Opened: As Golden Hills Brewing, May 2009; became Orlison in July 2013.
The story: Onetime barley farmer and malt salesman Bernie Duenwald's lager-centric brewery got new energy from a cash infusion by grass seed growers Orlin Reinbold (a former boss) and Jason Miller, and a new identity from their combined first names.
The scene: After six years as an Airway Heights production brewery turning out more time-consuming lagers as opposed to the typical craft ales, with a focus on the broader Northwest market and beyond, Orlison opened a small but stylish downtown Spokane taproom in August at 1017 W. First. It's done up industrial-modern style, with plenty of stained butcher block wood and shiny corrugated metal. Stools were fashioned from old beer kegs, and caged trouble lights are arranged into circular hanging fixtures. A standing bar lines one wall of the narrow space, with bench seating on the other side along four tables, underneath a large distressed-metal Orlison logo sculpture.
Food: No
TVs: One
Live music: None
Specials: Monday, $2 off on flights; Tuesday, 10-ounce pours for $2; Wednesday, $3 pints ($2 on selected beers) and $1 off growler fills for service industry workers; Thursday, $3 pints (5-9 p.m.); Friday, $2 off growler fills; monthly Community Pint Nights, with $1 per pint sold donated to local organizations.
Brewhouse size: 30 barrels
Taps: 16
Beers: Regular offerings (all available in cans as well as draft) include Havanüther light pilsner (4.1 percent alcohol by volume, 26 International Bitterness Units), Clem's Gold (5.3, 29), Lizzy's Red (5.5, 34), Brünette brown (4.2, 23), Pilsner 37 (6.6, 61), IPL India pale lager (7, 63) and Ünderground stout (6.2, 43). There also are rotating specialties (some available in 22-ounce bottles) including 2 Finger Pour (brewed with whiskey barrel chips, orange peel and bitters to mimic an Old Fashioned cocktail), Roast House Stout, Hops'In dry-hopped pilsner, Shut Up and Rye'd rye IPL and the Asian-inspired Toasted Dragon (with Thai basil, lime, ginger and Szechuan peppercorns). The taproom serves such experimental styles as Suspended Cascadian dark lager and the brewery's first ales, a session and a regular IPA. All are available in pints, 10-ounce pours and taster trays. Flavor-infused beers are regularly served through a Randall.
Other options: Two of the taps pour a guest beer, and a local cider; wine also available.
Don't miss: The supercharged Pilsner 37, a hearty Northwest interpretation of the style featuring a healthy dose of Amarillo hops, is a good beer for a good cause; a portion of sales benefits Team Gleason, the charitable foundation of former WSU and NFL player Steve Gleason (who wore number 37) that helps those, like him, battling ALS (amyotrophic lateral sclerosis).
Phone:

509-244-2536

Website:

Email:

Business hours
Tuesday
4 p.m.-9 p.m.
Wednesday
4 p.m.-9 p.m.
Thursday
4 p.m.-9 p.m.
Friday
2 p.m.-9 p.m.
Saturday
2 p.m.-9 p.m.