Steam Plant Brewing Co.
159 S. Lincoln St., Spokane, WA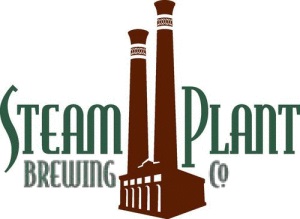 A popular jalapeno ale is among the regular offerings from this house brewery at the restaurant/pub in the historic downtown Spokane structure, which reopened at the beginning of 2018 following extensive renovations. Be sure to check out the seasonals, from the summery Blood Orange Pale to hearty 1889 Imperial IPA, and other rotating specialties.
THE STEAM PLANT HAS CLOSED FOR THE SUMMER WHILE THE RESTAURANT AND BREWPUB UNDERGO RENOVATIONS.
Opened: 1999
The story: Originally an outlet of the former Coeur d'Alene Brewing Company, the in-house brewery serves the pub and upstairs Stacks Restaurant.
The scene: The pub is buried deep in the belly of the immaculately restored historic complex, known for its twin 225-foot smokestacks, that previously produced steam heat and electrical power for downtown Spokane. The long, rectangular room, with ample seating at the black tile-topped bar as well as high and low tables, is done up in dark woods and carpeting, with light wafting down through the partially open ceiling from the upper-level windows. Two pool tables sit at the far end, along with wicker chairs and board games. There's a retro-industrial vibe from the old steam plant trappings scattered through both the pub and restaurant.
Food: Full-service restaurant menu available.
TVs: 10
Live music: No
Specials: Happy hour ($3 pints, $4 for stouts) Monday-Saturday, 3-6 p.m.; Monday-Thursday, 9-10 p.m.; Friday-Saturday, 10-11 p.m.; and all day Sunday.
Brewhouse size: 10 barrels
Taps: 12
Beers: Eight taps are devoted to year-round standards: Blonde (4.5 percent alcohol by volume, 7 International Bitterness Units), Huckleberry Harvest (4.4, 7), Jalapeno Ale (4.4, 7), Cutter's Pale (5.2, 28), Big Brick Brown (5.6, 22), Highland Scottish (5.8, 18), Firebox IPA (5.8, 69) and Double Stack Stout (6.5, 43). The others rotate between occasional specialties and regular seasonals, including a winter warmer, imperial IPA, blood orange pale and Oktoberfest lager. All are available in pints to go as well as full-sized growlers.
Other options: Wine and full bar.
Don't miss: While the regular beers are solid, brewer Ben Quick really shines with his specialty offerings, particularly the fruity, lightly tart blood orange and traditional Oktoberfest.
Phone:

+15097773900

Website:

Business hours
Sunday
3 p.m.-10 p.m.
Monday
3 p.m.-10 p.m.
Tuesday
3 p.m.-10 p.m.
Wednesday
3 p.m.-10 p.m.
Thursday
3 p.m.-10 p.m.
Friday
3 p.m.-11 p.m.
Saturday
3 p.m.-11 p.m.