No-Li Brewhouse
1003 E. Trent Ave., Spokane, WA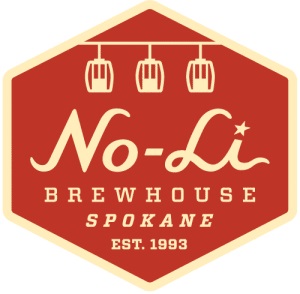 Spokane's biggest brewery was born from the pioneering Northern Lights (founded in 1993), taking a new name and direction in 2012 under the guidance of craft beer marketing veteran John Bryant. Its bottled and canned beers are widely available; barrel-aged, flavor-infused and other specialties also pour at the lodge-style brewpub, which features a full-service food menu and an expansive patio along the Spokane River.
Opened: November 1993 as Northern Lights Brewery; became No-Li in April 2012.
The story: Spokane's oldest operating brewery took a big step forward with the arrival of craft beer marketing veteran John Bryant, who partnered with original owner/brewer Mark Irvin (since departed) to launch the rebranded No-Li. Production has soared and the beers are now distributed throughout the Northwest and beyond.
The scene: The pub has evolved along with the brewing operation. With new tables, lighting and a restored concrete floor, a steel bar top and a corner observation nook looking into the brewery activities, the main dining room has been revamped to better match the cozier atmosphere of the River Room across the hall, done up Northwest lodge style with benches, a big indoor fire pit and artful chalkboards displaying beer and brewery info; both spaces are decorated with barrels full of aging beer. Outside, the large patio along the Spokane River (near the Centennial Trail) was redone with crushed granite in place of the beaten-down grass and a standalone bar. Adirondack chairs line the riverbank, with several large picnic tables in the middle and seating at metal tables and chairs on the concrete patio adjoining the building (covered in cooler weather with fire pits underneath). A custom water feature was fashioned from an old steel shipping lane buoy out of the Atlantic Ocean.
Food: Full-service menu of upscale pub fare.
TVs: Five in the main dining room.
Live music: Wednesdays and Saturdays, 7-9 p.m. (on the patio as weather allows).
Specials: LocALE Mondays, souvenir Spokane-themed pint glasses with specified beer purchases after 5 p.m.; Tulip Tuesday, buy a barrel-aged or imperial beer after 5 and keep the glass; PNW Thursdays, free Northwest-inspired pint glass with selected purchases after 5; discount growler fills ($3 off) on Sundays.
Brewhouse size: 25 barrels
Taps: 18
Beers: The regular draft/bottle lineup includes Poser pale (4.8 percent alcohol by volume, 25 International Bitterness Units), Crony brown (5.1, 30), Slacker orange-vanilla ale (6.1, 20), Spin Cycle Red (5.8, 49), Empire No. 8 session IPA (5.5, 67), Born & Raised IPA (7, 85), Jet Star Imperial IPA (8.1, 115), Rise & Grind coffee/oatmeal/milk stout (6.1, 22) and Wrecking Ball imperial stout (9.5, 100). There also are Expo Series seasonals in both bottles and draft, golden and amber ales on tap at the pub along with a variety of limited-release offerings, and a steadily increasing number of barrel-aged specialties (one always is on tap). Rotating beers are poured through an extra-creamy nitrogen tap, along with occasional flavor-infused Randall offerings.
Other options: Limited liquor and wine.
Don't miss: The specialty No Boundaries releases let No-Li's brewers show off their creative side, from a dry-hopped saison to a fresh hop kettle sour to an authentic oyster stout.
Phone:

509-242-2739

Website:

Email:

Business hours
Sunday
11 a.m.-9 p.m.
Monday
11 a.m.-10 p.m.
Tuesday
11 a.m.-10 p.m.
Wednesday
11 a.m.-10 p.m.
Thursday
11 a.m.-10 p.m.
Friday
11 a.m.-11 p.m.
Saturday
11 a.m.-11 p.m.