Awareness of gluten-related disorders is much more common these days, so several Pig Out vendors are providing "gluten-free" options. But, unless you have a gluten sensitivity, don't mistake gluten-free for healthy.
Take, for example, my Thursday afternoon bite at Shiznits. Their $8 entrée options include essentially the same ingredients—shredded beef, pork and/or chicken or a beer brat topped with grilled bell peppers, onions and garlic, cheese and/or honey barbeque sauce and jalapeno bacon—on a sandwich roll or gluten-free mashed potatoes.
Nothing about that could be considered healthy, but I couldn't wait to try it.
The $3 bite is a mini version of mashed potato sundae; you can also get a mini Berry Smoothie Cake Cup with pound cake, mixed berry compote, raspberry crème and whipped cream, but the regular size is only $2 more.
The novelty of a mashed potato sundae is unique, but the mini cup made it a little difficult to mix up the ingredients. The meat to mashed potato ratio was a little heavy on the meat side when you're trying to get a forkful that has a little bit of everything.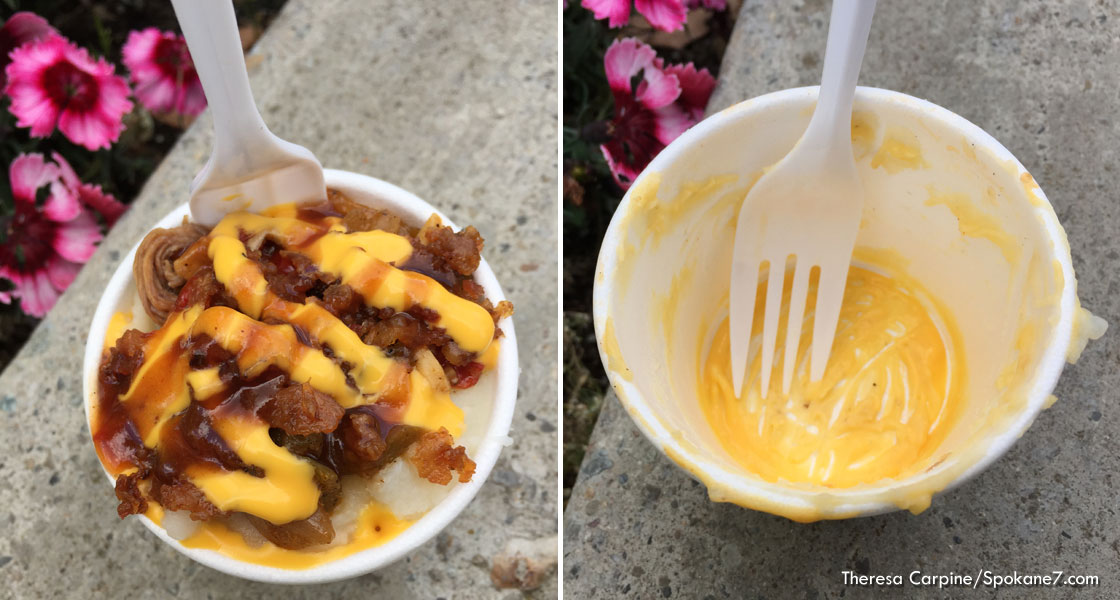 The "sundae" aspect of this dish probably works better with the larger size, since only ingredient that was layered seemed to be cheese. As you can see in the after photo, I was determined to get as much of that delicious cheese sauce out of the cup.
While a mini was a little too small, the full-size might be a big much for one person (at least, this person). What I really want is a frozen yogurt set up, where you load up the mashed potatoes with whatever mix of toppings you want, and then you pay by weight. A girl can dream, right?
P.S. I did get a Saucer Burger for lunch and discovered that the prices had dropped! Two for $5 is a good deal, and just the right size for a lunch. Some people where buying these burgers by the half-dozen!