Orlison brewer Rachel Nalley poses with the Brewers Association's Charlie Papazian after winning a gold medal Saturday at the Great American Beer Festival.
For the second straight year, a Spokane brewery is bringing home a gold medal from the Great American Beer Festival.
Orlison's Boulder Garden Brown topped 62 other entries in the English-Style Brown Ale category in Saturday's annual competition at the Denver festival, the nation's most prestigious beer event.
"It is a real honor to be among such accomplished brewers and breweries," Orlison brewer Rachel Nalley said via e-mail. "I am so excited for what Orlison and the Spokane brewing scene is creating and what we are bringing to the national spotlight."
Orlison is the fourth Spokane-area brewery to take GABF gold since the competition began in 1987, and the third in the past six years. The former Coeur d'Alene Brewing won for its Centennial Pale Ale in 1988, No-Li for Crystal Bitter (now Spin Cycle Red) in 2012 and Perry Street for its Session IPL last year.
There were almost 8,000 entries from more than 2,000 breweries nationwide this year, spread across 98 style categories.
Other Washington gold-medal winners included Chuckanut, for both its Kolsch and Dunkel Lager; Reuben's, Triumvirate IPA (Australian/international-style pale ale); Silver City, Ridgetop Red (Irish-style red); and Wander, Correspondent (export stout).
Taking silver were Fremont, for Field to Ferment Amarillo (fresh/wet hop ale); Ghostfish, for Meteor Shower Blonde Ale (gluten-free beer); Ram/Big Horn Lakewood, Hefeweizen (South German-style hefeweizen); and Ram/Big Horn Seattle, Udder Chaos (coffee stout/porter).
In all, 293 medals were handed out to 266 breweries. Go here for the complete list of winners, and here for video of the awards ceremony.
Perry pours for Rare Beer Tasting: Perry Street may not have returned to the awards podium this year, but it was one of 68 breweries nationwide featured at this year's Denver Rare Beer Tasting on Friday. The brewery's chardonnay barrel-aged tripel poured for the event, which benefits Pints for Prostates.
Pullman's Paradise Creek and Moscow's Rants & Raves were among more than 800 breweries with booths at the main festival.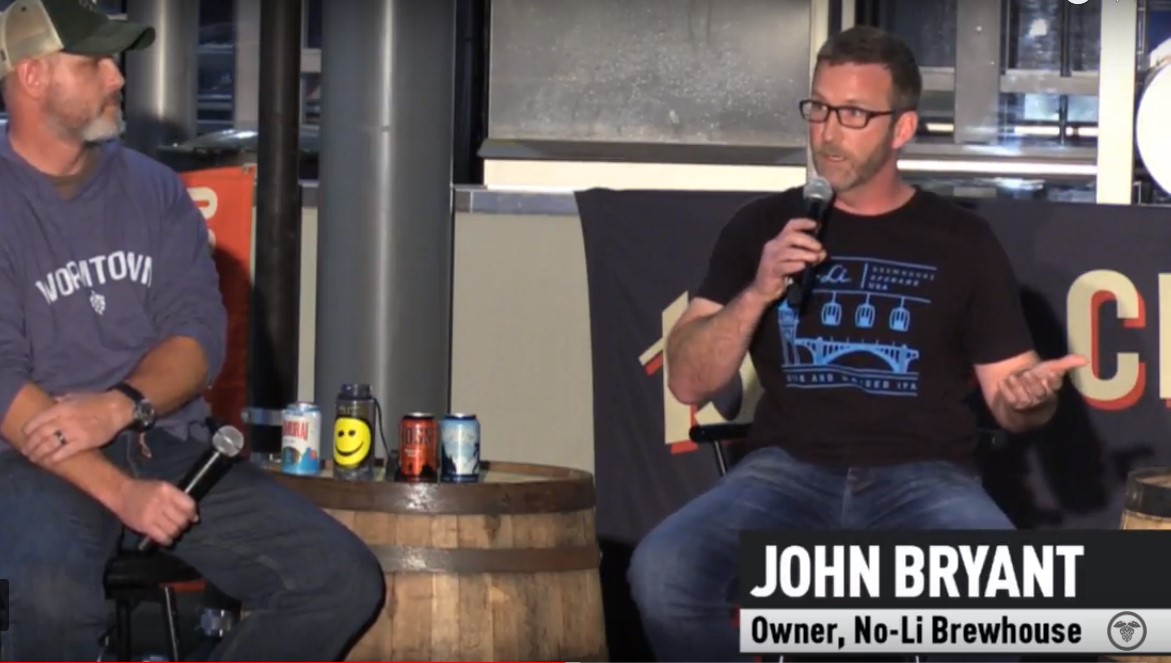 No-Li's Bryant talks survival: No-Li's John Bryant participated in a panel discussion Friday on the challenges facing midsized breweries in today's increasingly competitive craft beer market.
"In this room, we can look left and right, and we probably all won't be here in three years," Bryant said during the GABF Brew Talks session sponsored by Brewbound. "I hate to take the romance out of what we're doing, but we've gone from a couple thousand breweries to coming up on 6.000 and it's getting really crowded out there."
But smaller brewers have some advantages over their more corporate counterparts, he said: "You're risk-takers, you believe in something greater than a dollar bill. And that's what will set you apart from the larger brewers. … It's when you get comfortable and you become risk-adverse that you will lose."
Commitment to community is one key to success, said Bryant, who has made ongoing charitable activities a priority at No-Li. "You've got to give more than you take," he said. "However you choose to interact in your community, be deeply a part of it – it's got to be meaningful, it's not posing, it's real. You've got to give until it hurts."
Personal commitment is crucial as well, he added: "I do believe No-Li is a cause, and if I don't believe it's a cause, I shouldn't get out of bed because it's too much damn work. You have to believe it's a cause and that because you exist, the world's a better place or craft beer's a better place or your community's a better place or the people you work beside every day for countless hours make it a better place."
You can watch a replay of the session here (starting at the 36-minute mark).